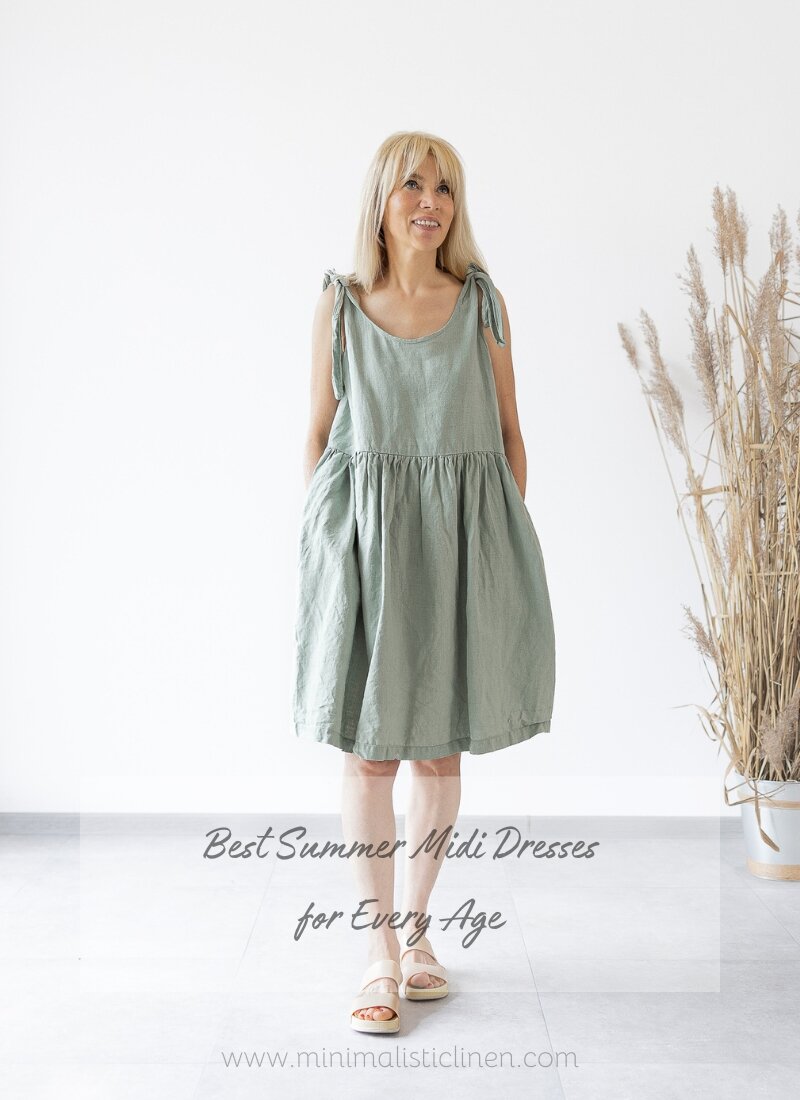 Best Summer Midi Dresses for Every Age: The Ultimate Guide
Every woman, no matter her age, wants a lovely and comfortable summer dress, but finding the perfect one usually requires some research. Today, we're going to dig deeper into this topic in our guide and explain what the very best midi-length dress for all ages is!
You might wonder why a woman should have a midi dress in her wardrobe. It's simple! Knee-length summer dresses let you showcase your legs without revealing too much or too little. They're an excellent choice for achieving a look that's neither overly casual nor too formal, offering a comfortable midpoint in style. They are also an excellent choice for women of all ages, and these mid-length dresses can be styled to fit a wide range of body types!
Would you like to know what is the best summer midi-length dress for all ages that makes you look lovely while meeting all your summer needs - providing breathability and quick sweat drying? In the short answer, linen dress! But don't stop here! Stay tuned for the full scoop and learn how to style midi dresses for different ages.
Styling Midi Dresses for Teens in Summer
During a hot, sunny summer, every teenager wants to look stylish, and what better way than with a fabulous dress? And here comes one of the dress options - midi-length ones. They are an ideal choice that is perfect for festivals, beach outings, casual days, formal events, and more. Sounds amazing, right? I believe it truly is! The question is, how can you style a midi dress for various occasions? It's not rocket science. Just grab a cup of tea and stick with me, but if you want to get a short answer, it's all about layering with different clothing or footwear.
How to Layer Midi Dresses for Versatile Teen Summer Fashion?
Let's set the scene! It's a scorching summer day, and you're all set to hang out with your friends. The best choice for that with a midi dress would be, guess what? Nothing fancy is required! Sneakers, a comfy handbag, sunglasses, and you're good to go! It's as simple as that!
If you're planning to go on a date with your boyfriend to a restaurant, you can look really stylish. Try wearing high-heeled sandals or nice, classic high heels, along with a stylish handbag and a formal blazer. This outfit will make you all set for a more formal meet-up as a teenager!
If the summer weather is a bit cooler, you can easily layer a sweater, jacket, or cardigan over your mid-length dresses. Mixing up your outfit looks is really simple! And don't forget about shoes! The best footwear options with a midi dress in the summer are sandals, sneakers, espadrilles, and even various types of boots, such as ankle boots or suede boots. 
How to mix different colors in adult midi dress styling for summer?
We all know that hues have a huge impact on different styles, but do you know how to mix various colors with your summer midi dress? It's not difficult! In short, wear colours based on your mood for the day!
However, in most cases, teens should opt for bright-colored summer dresses during the summer. This means we shouldn't hesitate to pick colours for our summer mid-length dress, such as:
Bright yellow dresses

Red dresses

Light blue dresses

Light pink dresses

White dresses

Light green dresses

And other vibrant shades
Of course, not all hues need to be bright! You can mix vivid shades with darker tones to create nice contrasts. Additionally, opting for neutral colours can give your clothes a more minimalist tone. Just try experimenting to find the best option for that day!
Styling Summer Mid-Length Dresses for Older Women
As we get older, feeling good in our clothes becomes increasingly important. Midi dresses are ideal for the summer because they are neither too long nor too short. They're perfect! They're more comfortable than longer dresses, which can be uncomfortable in the hot summer days. They're also better compared to short dresses, which can reveal too much and may not look very elegant on older women.
Midi dresses are also available with a wide range of sleeves. If you want to get tanned arms or just get vitamin D from the sun's rays, you can choose sleeveless midi dresses or ones with short sleeves. For slightly cooler summer days when you seek a bit more warmth, you can effortlessly style your midi dress with the long-sleeve option.
You might ask, how to style midi length dresses for mature women? It's quite simple! When it comes to styling and layering midi dresses, the possibilities are endless. The advantage of a midi dress lies in its versatility, allowing you to combine and mix it with your other clothing effortlessly. You can easily pair it with jackets, cardigans, and any footwear. In other words, it would be challenging to find clothes that cannot be mixed with knee-length dresses!
How do colors impact styling mid-length summer dresses for older women?
Colours have an important effect on how you style midi-length summer dresses. Your chosen hue may indicate or change your mood for the occasion you are planning. When layering other pieces of clothing or even shoes plus accessories, make sure they perfectly complement each other colour-wise for a perfect match.
Shade selection for dresses becomes even more important for older women, but don't worry. We'll explain which colour to choose when styling knee-length dresses for mature women.
Black

, as other dark shades such as dark blue or dark green, make you appear slimmer and more attractive. 

Bright shades like white 

can add a vibrant touch to your outfit, making you stand out in a crowd.

P

astel and red

 shades should be used with caution because they can be difficult to achieve a specific look.

Neutral hues

 like brown, beige or sage green will give you an elegant as well as timeless look if you love minimalism. These colours are perfect for any occasion but can only be dressed up or down-scaled by adding suitable accessories.
Selecting the right colour tone for your midi-length summer dress is key, especially for warm, sunny days. Opting for brighter tints during such weather is a smart choice as they reflect light, aiding in a cooler feel.
In short, when choosing your midi-length summer dresses, it is important to think about colour. Always select a colour that goes with the occasion, your mood, and your style statement. 
How to Choose Comfortable Footwear for Mid-length Dresses in Summer?
When looking for shoes to wear with a knee-length dress, there are a few things that must be kept in mind. It is important to note that any kind of shoes are suitable for such dresses, yet your comfort comes first. Essentially, you should not be walking with your heels or having a feeling that your toes are squeezed just to match with the midi.
It is worth mentioning that sandals can easily complement mid-length dresses in the Summer heat as they provide breathability and allow your feet to stay cool and comfortable. Go with strappy sandals or slides to add a touch of elegance to your outfit.
You can also go with sneakers when it comes to choosing comfy footwear that's suitable for mid-length dressing. These are ideal for city walks and casual strolls. Try to grab breathable sneakers that won't make your feet sweaty in the hot summer.
Even if you are attending a formal event, it is still possible to prioritize comfort while wearing mid length dresses. You can, therefore, wear flat or low-heeled shoes or block heels to attain stability and support. Alternatively, you may wear dressy sandals or flats that will add glamour to your mid-length outfit, too.
While selecting shoes for your mid length dresses, the occasion must be taken into account. When heading to the beach, for sure, slippers or flip-flops are a necessity. For a day out in the city, trainers or comfortable flats are a great choice to wear with your mid-length dress. Whether it is an occasion or for everyday use, make sure you find a pair of shoes that you feel confident and comfortable in.
Best Summer Midi Dress Fabric for Different Age Groups
When it comes to choosing the ideal fabric for your summer midi dress, there are several factors to consider, such as comfort, breathability, style, and, of course, environmental responsibility, which is very important for the future of our planet. Okay, let's ask you: Which fabric is best for a midi summer dress? Do you have any guesses?
In short, it's LINEN. It's a fabric that checks all the boxes and is perfect for any age group, too!
Linen, known for its lightweight feel, keeps one cool on warm, sunny days. Its versatile nature allows it to be worn elegantly for formal occasions or casually for any event. It is a natural material composed of fibres from flax plants. It is a strong fabric that can withstand wear and tear, making it a great investment for your wardrobe. Linen midi dress is easy to care for, as it can be machine-washed and dried instantly. Moreover, linen fabric is highly absorbent and may absorb up to 20% of its weight in moisture before feeling damp
Accessorizing Midi Dresses for Different Age Ranges
Similar to how spices enhance the flavor of food, the right accessories may completely transform the look of an outfit. But what accessories to choose for your summer midi dress? When it comes to accessorizing your dress, there's no strict right or wrong—your choices should consider factors like your age, the occasion, and your mood for the day.
If you're heading to the beach in your charming midi dress, consider styling it with a crochet bag, a hat, sunglasses, and colourful earrings to complete the laid-back, beachy vibe.
For a relaxed day, just go with what you usually wear!
But if you want to look different, try wearing sparkly necklaces and attention-grabbing earrings to make your outfit more special and unique.
Accessorizing for Teenagers and Young Adults
Young adults and teenagers can experiment with fresh trends and styles by playing around with the accessories they have. It could be handmade earrings, a backpack, colourful sunglasses and so on. Try to use your imagination, and I'm sure you will easily find those styles!
Accessorizing for Mature Women
For an elegant look, we suggest classic accessories like timeless pearl earrings and sophisticated necklaces that never go out of style. If you prefer minimalism, opt for sustainable products such as handmade earrings or headbands. As mentioned earlier, there are no wrong accessories, so pick what you love and experiment with styling!
Final Thoughts
Discovering the ideal summer midi dress might seem challenging, but it doesn't have to be overwhelming. With a wide range of options available, it's crucial to consider your body shape, personal preferences, and the specific occasion when selecting your outfit. Remember, midi dresses are versatile and can be dressed up or down for various events.
On scorching summer days, opt for breathable, light fabrics such as linen. Ensure the midi dress fits your figure well. Don't hesitate to experiment with solid or vibrant colors, yet also consider timeless styles like a simple black or white midi dress, which are consistently excellent choices.
Ultimately, the perfect summer midi dress is one that instils confidence and comfort. By keeping these guidelines in mind, you'll undoubtedly discover the ideal midi dress for any age and any occasion.