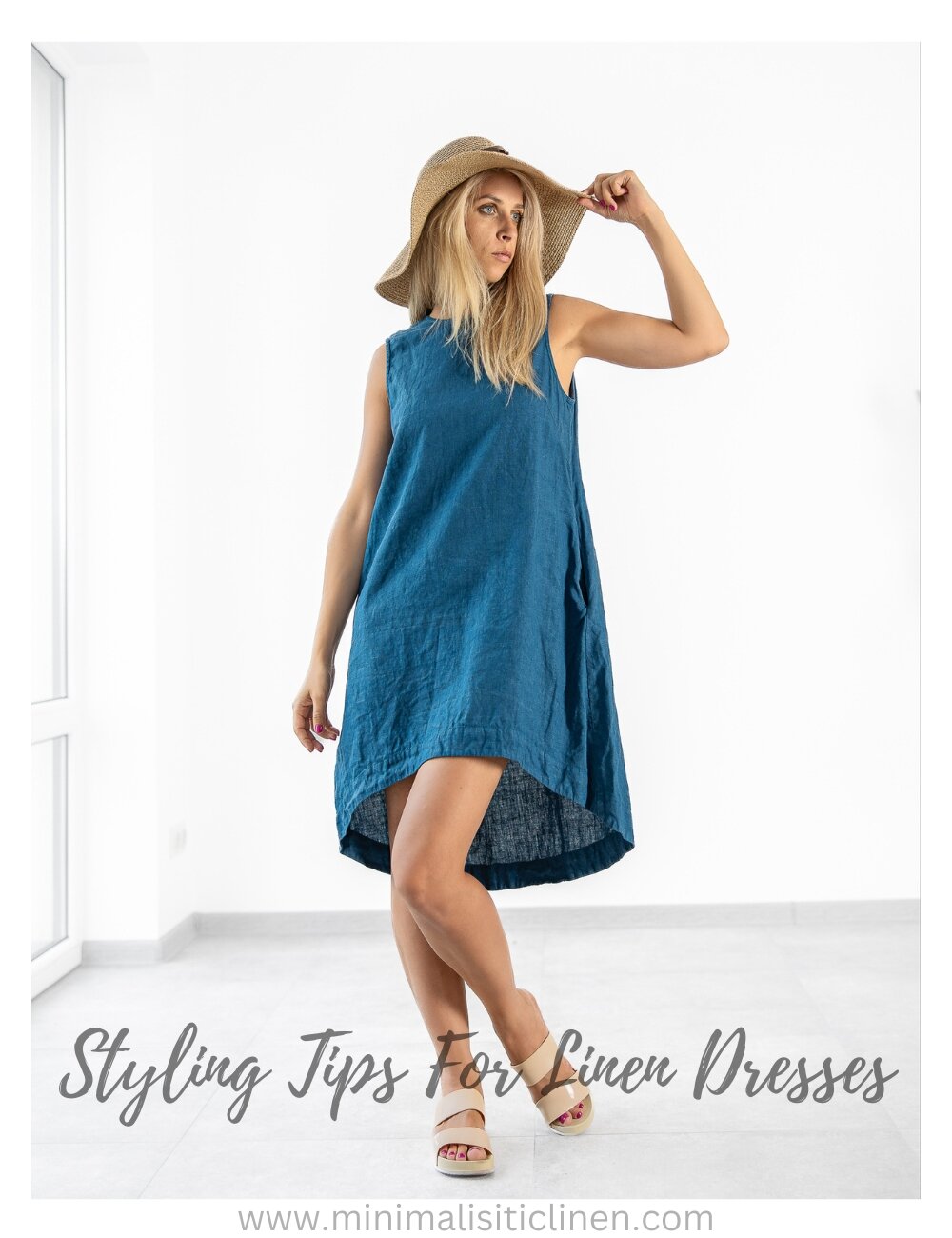 Styling Tips For Linen Dresses
Are you in search of dresses that are cooling, breathable, slightly vintage yet luxurious, and never go out of fashion? Well, you jumped into the right place! Welcome to our elegant linen dresses world! 
Hmmm, let me guess, are you wondering, "Can I use them for various occasions?" or "Can I wear such cooling material in cold weather?". 
Don't worry about this! Here's the fact: There's no need to buy dozens of clothes for different events or seasons. Only some good quality linen dresses and basic accessories are enough! And it only takes you a few minutes to mix and match them together to look fashionable. 
So amazing, right?
But wait – there's more! Linen is a strong and durable fiber. I mean, it doesn't require any particular treatment.
Think I'm exaggerating?
Nope! Fasten your seatbelt, and dive in with me! I will show you how to be a fashionista with linen dresses. Also, in this blog, I'll give you some tips to maximize linen lifetime.
Ready?
Linen Dresses vs Cotton Dresses: A Comparison
Cotton and linen are two of the most popular materials. Women all across the world favor them as they are both comfortable and fashionable.
But, frankly, linen clothes are better than cotton clothes. 
Why do I say this?
 Strong but soft material
You may think they have the same durability, but actually, there're differences. The cellulose fibers in your linen dresses appear to be longer and wrapped tighter, therefore giving the linen strength and flexibility.
Most likely, you'll note that both materials are really fluffy and soft. But, actually, some individuals say that linen feels a little softer. And the fun fact is linen's softness increases over time. Well, that means your favorite linen dress can be even much milder after many years.
 Linen evaporates water, including sweat
People say that those who dress in linen sweat less than those who dress in cotton. Wearing linen dresses, you won't be sweaty. Your armpits won't sweat as much as they might when wearing cotton fabric, which can be quite bothersome and lead to an unflattering appearance. On the other hand, linen clothes dry quickly, therefore becoming must-have items during the hot season or when traveling. 
 Linen is more eco-friendly
Linen dresses are more eco-friendly than cotton alternatives as it takes fewer chemicals to transform flax fibers into linen fabric. Cotton is a plant that requires a great deal of chemical assistance.
 Linen has lovely wrinkles 
There's no need to iron them, though, thanks to their lovely crumples. Instead of being flat and dull like cotton dresses, those wrinkles give linen a texture and depth to its fibers that is now fashionable. 
All in all, cotton is more cost-effective than linen since it fits your clothing budget far better. But linen dresses will save you in the future thanks to their strength and longevity. And if you are an environmentalist, a linen dress is the best choice for you due to its sustainability.
How to Choose the Best Linen Dress Length for Different Occasions
There are a number of dress lengths for different styles or purposes. And how to choose the best length? Stick with me here. I will show you how.
Casual linen mini dresses: They will show off most of your legs. So, they are perfect for summer. But you can wear them in the cold as well! Just make sure you layer up by wearing a pair of pantyhose or ankle-length boots to keep your legs warm. Also, they're ideal for casual girls' nights out and dinner dates.
Linen cute midi dresses: Midi dresses are those that fall below the knees or right above the ankles. If you're purchasing an elegant and stylish vibe, midi dresses will be your best option. 
Linen elegant maxi dresses: Maxi dresses are long ones that fall to your ankles or, in some cases, the floor. And due to the length, they can help you cover your skin. That's why they fit best for those who hate to show off their legs but still want to remain cool in the hot seasons.
Linen Maxi Dresses for Elegant Evenings
You may ask, are linen maxi dresses right for formal and elegant occasions? In a short answer, YES, It's perfect for elegant events. Linen maxi dresses are just simply chic. With the suitable length, the skirt moves in a way that makes you feel like you're dancing and looks incredibly wonderful in pictures, offering the allure and capturing the men's hearts. Moreover, befriending a linen maxi dress in summer evenings is a perfect option, due to its lightweight and comfort. 
Linen Midi Dresses for Casual Wear
If you're looking to boost your style with a youthful and casual look, don't hesitate to put on our midi dresses. They can both give you comfort thanks to the lightweight and breathability of linen and add a touch of being dynamic but elegant and feminine. One of midi length is shift dress, you can take a look here
Made of natural 100% linen and cared for in specific details by the skilled tailors, our midi dresses can look casual yet luxurious as well. That's amazing, right?
Linen Mini Dresses for Casual Chic
Do you want to stand out from the crowd? Chic mini dresses are ideal for a casual yet stylish summer look! Unlike maxi and midi dresses, mini dresses add more confidence and provide a more attractive appearance. 
Also, these type of dresses will help to show off your sexy skin. They will keep you fresh while ensuring you appear hot and spicy.
If you desire a fashionable look, you're at the right place. With various colors, we're sure you can discover the perfect dresses that express your unique personality, taste, and style.  
Best Footwear Pairings with Linen Dresses
Minimal but chic linen dresses have taken the fashion world by storm. And these dresses are expected to be on trend for a long time. 
So, if you want to look trendy, you must complete your outfit with a suitable pair of shoes. 
 Linen dress and sandals
Sandals are must-have items in our shoe closets, and of course, this type of shoe pairs very well with linen. They are a great in-between option for walking comfortably, letting your feet breathe while still looking attractive. 
Pair your sandals with a linen dress and some other lovely accessories - you're ready to go. They'll add a more casual yet elegant look to your outfit.
 Linen dress and sneakers
Making a linen dress more comfortable with sneakers, why not? Sneakers are excellent for dressing down your outfit and making you feel more relaxed. 
Sneakers can look great with any type of linen dress, whether it's short, midi, or maxi. The point is you can mix and match them together all year round.
 Linen dress and heels
Dress it up with heels. You can always go right when pairing your favorite heels with a linen dress. Why do I say that?
Heels will elongate your legs and add a glamorous touch to your outfit. They will not only improve your posture but also give you confidence and power vibes.
How to Wear Linen Dresses to the Office and Still Look Professional
Typically, linen clothing is used for casual events. But, it can give you a formal look as well if you know how to mix and match them! Sounds great?
So, if you're always busy and don't have enough time for going out, don't worry! Because you can wear linen dresses to the office and still look professional!
A simple linen dress is a must-have office item. It allows your skin to breathe, which is suitable for a long working day in the hot summer. 
Also, if you wanna look more professional, you can match a linen dress with a office linen blazer and a pair of heels. They will give you a smart casual look! 
How to Choose the Best Linen Dress for Your Body Type
Looking for a new linen dress but wondering what's the best for you? Stay with me! I will give you a guide to determine your body shape and help you pick the most attractive linen dress.
Dress For Hourglass Body Shape
You most likely have an hourglass-shaped physique if your hip and bust sizes are nearly equal and your waist is narrow. Finding a dress that complements this body type requires maintaining balance in your overall frame. And here's the key: your slim waist! So, be sure to select dresses that always accentuate your waist. Additionally, some of the best necklines for this body shape include off-the-shoulder designs, sweetheart necklines, boat necks, and V-necks.
Dress For Inverted Triangle Body Shape
Women with an inverted triangle frame have broader shoulders than the hips, with little to no waist definition.
Note: The goal when dressing for this shape is to balance the broader shoulders with a narrower lower body while creating a more defined waist.
That means the ideal dresses for the physique should add volume at the hips. So, remember: look for dresses that curve from the hips or waist, such as shift dresses or A-line alternatives. 
Also, to draw eyes downward, don't forget to choose dresses with lighter colors and details on the lower part.
Dress For Rectangle Body Shape
If you have equal bust, waist, and hip measurements, you most likely have a rectangle body shape. 
Your challenge is to highlight your body in a balanced way and try to define your waistline.
When it comes to dresses, rectangles have so many choices. Still, fit and flare, A-line, or sheath dresses are the best options, as they define your waist. 
How to Style Linen Dresses for a Casual Day Out?
It's easy to style your lovely linen dresses for a casual day with your family, love, or besties. 
But how?
Just put on a bright or dark-colored linen dress - anything you want with a sneaker and a tote, you're ready to go out. 
Or, if you want to look more relaxed, a jean jacket and sunglasses will help you! Jackets perfectly match our all-linen dresses, and a pair of sunglasses will complete your outfit.
Best Linen Dresses for Traveling in Comfort and Style
A linen dress is the perfect choice for summer vacations, beach trips, or even multi-climate day trips. 
You can wear an elegant , simple slip dress with a long length linen cardigan and flip-flops to walk alongside a stunning sunny beach.
Linen dresses are all-in-one! So, if you've done your packing with only 7 linen dresses for a 1-week trip, that's totally fine! 
Sounds great?
And, thanks to the unique feature of linen clothing - natural and lovely wrinkles, you don't have to iron dresses every time you wear them. Thus, that must save you time to enjoy your trip.
How to Layer Linen Dresses for Cooler Weather?
Linen is a cooling material, so it works best in the summer. 
But! You can wear linen dresses in the cold weather as well.
How can this be?
Matching your linen dress with your cozy linen jacket or cardigan is a beautiful option for your outfit in the winter. But remember, it would be best to put your boots on to keep your legs warm.
Or double dresses! 
What am I talking about? 
You can wear a dress over a dress. They'll keep you warm and create a more exciting look!
How do you mix dresses with linen clothing?
It's simple. 
Do you need to go to an important event, but your wardrobe is full of V-neck and sweetheart-neckline dresses? Keep calm! You can put a linen blazer on your linen dress for a formal look.
Take your outfit to a new level by doubling your dresses or wearing a linen jacket. Of course, you can layer them up and then wear a linen jacket or cardigan over if you want. Let your imagination run wild, and don't be shy!
How to mix linen dress with non-linen clothing?
Here are a few ways:
You will always go right to match your favorite linen dress with a jean jacket. This outfit can both give you a casual look and keep you warm.
Plus, you can befriend with a belt to define your waistline. Together with the sunglasses, you will have a cool look.
Care and Maintenance of Linen Dresses
Linen clothing is known for its strength and durability. But, you should ensure how to care for it to maximize its longevity. 
Okay, here we go:
How to wash linen dresses?
Remember this: before washing, turn your linen dresses inside and always check the care instructions on the label. 
If you wash them with a washing machine, make sure that you always use a gentle machine cycle. Moreover, it would be best if you chose the highest level of water to let your linen dresses move freely.
Also, linen can shrink. So, never use hot water (> 40°C) to wash linen dresses. Only wash them in mild temps. 
The next tip is to use a light detergent while washing. And there's no need to use softener, as linen dresses can naturally get softer after every wash.
How to iron linen dresses?
Ironing linen dresses is simple enough. But do you know how?
Stick with me, and I will show you.
Start by turning your steam iron to the linen setting and get ready for the upcoming process. Note that your iron's faceplate and water are clean to avoid any unwanted ugly stains.
You also can place a terry cloth towel under your linen dresses to prevent any unwanted prints of the zips or buttons.
Next, spray some water on the "wrong" side of your linen dresses and keep the iron moving smoothly. Don't leave it in one place for too long since it can lead to a disaster.
And the ironing is done! Remember to store your linen dresses in an uncrowded area to avoid wrinkles.
Let's sum up why you might want linen dresses
In a nutshell, linen dresses are currently trendy and a wardrobe staple, making them an excellent choice for taking your OOTD (Outfit Of The Day) to the next level. Moreover, linen dresses are the perfect combination of elegant and romantic styles while they still can bring you unmatched comfort. That's why you only need a few linen dresses for multiple purposes instead of buying dozens of alternatives. 
Also, linen dresses go well with most accessories. So, good for you! You don't need to ask yourself, "How to mix and match this dress?" or "Which shoes are suitable for this?" daily use.
Plus, I also showed you how to choose the best dress fitting your body frame as well as how to maintain your linen dresses. 
Now, it's your turn!
Do you want to have a trendy look? 
Yes? 
So, what are you waiting for? 
Buy a linen dress right now!
Hmmm, maybe you are considering: "OK, I get it. But where can I buy the most beautiful linen dresses?"
Explore gorgeous linen dresses in our shop and buy your favorite one! We're pretty sure that you will find your ideal linen dresses there.