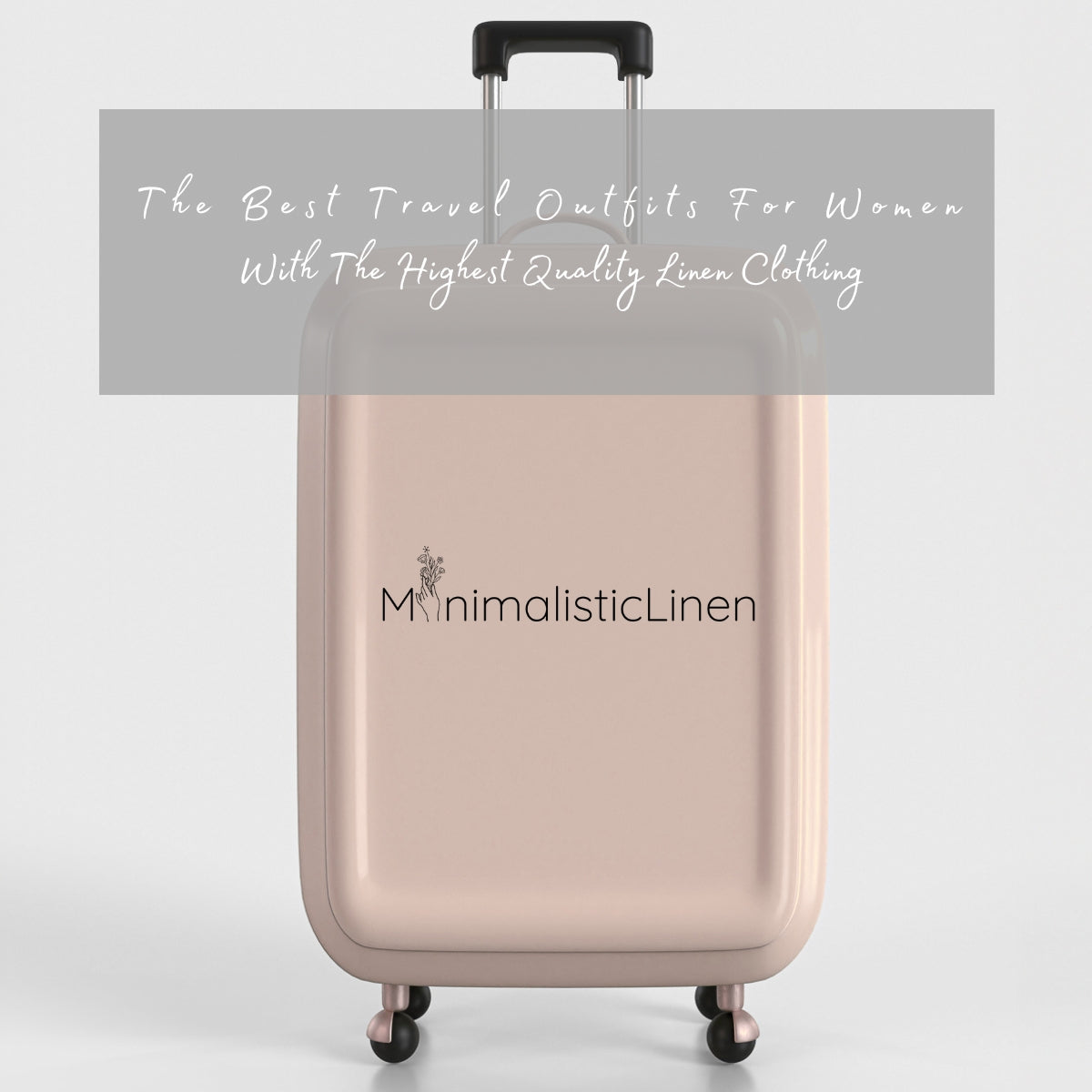 The Best Travel Outfits For Women With The Highest Quality Linen Clothing
Hi dear,
Have you ever packed tons of clothes for your journey? Or have you ever brought lots of suitcases with you for traveling?
Yes, right?
As all of us always want to get an elegant and attractive appearance, especially when traveling, that's very normal!
But do you think that's so bulky?
Yes? So why don't you lessen the number of clothes that you prepare for your trip?
Have you ever thought that you just need to bring only 7-10 items for a whole 7-day journey?
Can it be possible?
Let me take a guess, maybe you are doubting this possibility…
Here is the secret: actually, you totally can.
And, how?
Let me show you. No matter how old you are and what journey you're going on,  gear up for an enlightening adventure within this blog. I'll help you to level up your travel outfits with only a few linen items.
There's more! In this blog, I'll also show you how to use cool material like linen in the cold weather.
Doesn't that sound exciting?

Are you prepared?

Let's get started.
Linen Travel Outfits: Style and Comfort Combined
I strongly believe even when you don't have any linen pieces of clothing in your wardrobe, you must have heard the word "linen" before.
Do you know the reason why linen clothes are very popular and nearly have dominated women's wardrobe for decades?
That's due to its comfort, lightness and breathability.
Linen is stiff, that's why it doesn't stick to your skin.
Also, its structure allows the air to flow between the fibers and dry quickly. Thus, linen items are not just a super great heat conductor, but also highly absorbent.
So, don't forget to bring linen items on your journey, especially on summer vacations. As it's breathable and absorbent, you won't feel clammy!
And, what's more?
Linen clothing offers remarkable versatility, allowing women to effortlessly wear, for example, our womens linen dresses for any outing.
As an example.
You can wear long linen dresses to walk alongside the stunning beach and go out for an evening date at the restaurant. It'll give you a casual yet elegant look.
You see? Only 1 item for 2 purposes!
I mean, you can lighter your suitcase when traveling with lovely linen items. That's great!
Casual travel outfits for women with a wrap top and linen high waisted pants
Vacation is the perfect time to dress up in chic and comfortable styles. And what better way to do that than with womens linen pants?
And, to get the perfect appearance, you must mix those bottoms with the right tops.
That's the combination of a wrap top and linen high waisted pants!
Linen on linen - two natural, eco-friendly fabrics that will keep you cool and comfortable. Plus, like "denim on denim," this combination can give you a good fashion sense.
And one more good thing: this combination flatters almost every body shape and every age!
Anything else?
Yup!
This outfit goes well with all shoes, such as high heels, sandals, or sneakers. Therefore, you don't need to take hours to choose the best suitable footwear, which saves your time to explore more destinations.
Moreover, I know that you may worry about the fact that clothes for vacations are too sparkling for casual activities. As a result, you may have little chance to wear them.
But don't worry! With the lovely combination of linen wrap top and linen high-waisted pants, you're ready to go out for usual daily activities.
Linen Jumpsuits for the Best Travel Outfit Style
Do you find yourself frequently pondering, "What are some versatile items I can bring with me to the trip?"
Here's the point: womens linen jumpsuit!
Why do I say that?
Because with a jumpsuit, you don't need to spend time thinking too much of how to match this item, which bottom or which top would perfectly fit it.
As the jumpsuit is all in one! You now have a complete outfit that requires very little effort.
Also, it's versatile. If you want to wear overalls as a casual outfit for a day trip with your favorite pair of sneakers and a travel backpack, that's perfectly fine! You can also do it for an evening dinner with a view of the sunset at a beachfront restaurant. Just put on your high heels, earrings, and handbag, and you're good to go! It is also a perfect, elegant choice. We can clearly see that with a jumpsuit, you have so many ways to wear different outfits on different travel days, which will prevent you from repeating your look!
Plus, as you can see, all kinds of footwear go well with a linen jumpsuit, even sandals, boots, or even you can be barefoot on the beach. Each type will give you a different fashion sense. For example, matching a linen jumpsuit with high heels may give you a more mature and elegant look, while matching it with a pair of sneakers can give you a dynamic vibe.
Moreover, you can level up your daily appearance by matching a linen jumpsuit with a tote bag or a wide brimmed hat.
Business Travel outfit for Women in linen: Tips and Ideas
As I said before, linen clothing is versatile.
But can they be used for formal events? Are you worried that linen clothes are too casual for the workplace?
Actually, linen clothing is typically saved for casual events, but when combined with the right items, it can also be great for work.
You can definitely put together a formal business outfit from some linen items you'd carry anyway.
Whenever you think your outfit is too casual for the workplace, just simply put on cropped linen blazer or linen maxi cardigan, it'll turn to formal immediately.
Let me take an example.
It can be a pair of tapered pants paired with a linen T-shirts and a linen jacket. You can also match a midi linen dress with a blazer.
What's more?
Linen is the perfect choice when the temperature is above 25. As it's cool and breathable, you won't sweat. Therefore, you don't need to worry that sweat can be visible on your clothes and give you a negative impression.
Also, linen is light and doesn't stick to your skin, making you comfortable when working or meeting for a whole day long.
Best Linen Outfit Ideas For Women While Traveling On A Cruise Ship
"Simple is the best".
Let me take a guess. You may think that you should wear a luxury glitter dress when traveling on a cruise ship as only they can give you a luxury vibe.
Actually, it's not always right.
Why do I say that?
Because it depends on the weather and the purpose of your cruise ship trip.
Sometimes, you want to enjoy yourself more on your trip instead of taking nice photos and uploading them on social media platforms. In this case, I mean, for a laid-back day, you can totally choose a good combination of comfortable and casual clothing.
You can look simple yet fashionable with a short linen skirt and a tank top, together with sunglasses.
If you'are older , elegant woman, you can choose a linen maxi skirt dress together with a pair of sunglasses and a wide brimmed hat for your trip.
With a classic design, the combination will give you a casual but chic and elegant look. Then, when it comes to evening parties, midi skirt is also perfectly suitable for such events.
Romantic travel outfit ideas for women in linen
One of the best things about summer is vacation time. And the most ideal thing for your vacation is to arrange a romantic trip with your love.
Just imagine: you're walking alongside a stunning sunny beach or dancing beneath the moon with your boyfriend. It doesn't get much better than that, does it?
And what makes this more special? How to attract your love's attention?
The keyword is: your outfit!
A great combination will highlight your face, your body shape and give you a super attractive appearance.
Remember: Simple / minimalist is the best! So, don't rely too much on sparkling dresses with a thick layer of makeup to look more impressive.
You only need to pick up simple but chic and bright-color items. That's enough.
Are you wondering how simple items can bring you an alluring look?
Stick with me, and I'll show you how.
Here, I have a suggestion for you: our linen summer dresses
These dresses can be either more revealing or more modest, allowing you to show more or less of your body. Our lovely dress VERONA shows off your shoulders, which makes you sexier but still chic and casual. Also, the bright color is extremely suitable for summer vacations, especially for beach trips, and brightens your skin.
What's more? As it's a tunic dress, it'll make you comfortable and move easily.
Match our dresses with a beige wide brimmed hat and beige sandals. That's perfect!
Why Linen is the Most Eco-Friendly Travel Outfit for Women
You may have heard that linen is thought of as the most eco-friendly material. But have you ever wondered why?
For some who don't know: linen is a natural fiber grown from the flax plant, a plant which can  grow without fertilizers or pesticides. Thus, it saves much water and chemicals as well as being biodegradable. Therefore, flax plants are developing rapidly and can be generated without negatively impacting the environment.
What's more? Linen use less energy and doesn't rely on crude oil when compared to other materials.
Also, flax can grow in poor soil that is not utilized for agriculture.
You see? That's the reason why linen is considered the most environmentally-friendly and biodegradable in fashion history.
So, remember to bring your favorite linen items with you, not only for wearing, but also for saving our ecosystem.
Efficient Packing your Linen Travel Outfits
Linen clothes are a nice option for traveling. But, one cons of linen fabric is vulnerability, I mean, it's easily wrinkle.
And no one wants to stick in a hotel ironing clothes, right? You must want to save time to explore more attractive destinations instead.
So, what is the right way to pack your linen items?
Linen's wrinkle is adorable, however, if you want it nice and wrinkle-free, there's a tip: roll them up instead of folding them.
Or, another way, you can hang your linen items on a padded hanger, then put them carefully into your suitcase. This way  will help to keep linen clothes wrinkle-free as your linen items are always straightened.
Plus, remember to use a hard-sided suitcase. As the hard and straight edges can protect your clothes from the pressure of other bags when they are laying on yours.
And, here is the most important thing: just bring enough items!
Don't forget to list the items you'll wear for each purpose to make sure that you only bring what you really need. By this way, you can save more space in your suitcase, and it'll help to keep your linen clothes straighter.
Transitioning Linen Outfits for women: Going from Cold to Warm Climates While Traveling
The advantage of linen is the cool effect, so it works best on super hot days.
But, what will happen if you fly between different climate destinations?
Imagine that your first place is Europe, then you will fly to South East Asia 1 week later. As these two places have completely different temperatures, do you need to bring a bulky luggage?
Nope!
And, how can you bring a few but still enough?
The answer is: leave bulky items at home. They are heavy and thick coats, or high boots. This may take up a lot of space in your suitcase, and only works for cold places.
Instead, pack light jackets such as linen coats or linen cardigans and comfortable pairs of shoes with you.
When you're in the hot places, only one layer is enough.
Then, when you fly to cold destinations, you can layer your items up, such as doubling dresses by wearing a dress over a dress. This makes you more stylish.
Or, you can also put on your linen coat and a scarf to keep your body warm.
Travel Outfit Ideas in Linen for Mature Women
If you are pursuing a mature look, you're in the right place! As I'll provide you with some amazing tips and ideas in terms of fashion for mature women.
The first tip is about color. Never think that a bright piece of clothing can't give you a mature look. It's totally wrong!
Don't shy away from bright colors, instead, balance them out.
You can keep one color bold, and mellow everything else down by matching a bright color item with a neutral color item. That still looks great.
If you love wearing solid items, that's absolutely great. You can wear a full-color piece of clothing such as a full-black or full-white outfit, together compared with a colored handbag or sunglasses. I'm confident that you'll look perfect in any situation during your trip.
Another tip is adding layers.
What does it mean?
You only need a few additional key pieces to complete the look.
Let me take an example. You can use asymmetrical tops with sophisticated designs, linen cardigans and coats to complete your appearance. Sometimes, you may need classic scarves to look more stylish but still mature.
Why Linen Clothing Should Be Your Go-To Choice for Vacation Outfit: A Brief Overview
To put it concisely, linen clothing offers a blend of comfort, style and versatility, therefore, making it a great choice for your trips, especially for summer vacations.
Whether you're walking through vibrant city streets and going shopping, or relaxing on a tropical beach with your life's love, linen items are always the ideal option. As the breathable nature and timeless beauty of linen can enhance your travel experience.
And, if you're worrying about wrinkles when packing linen clothes for your upcoming trips, don't worry, as I already showed you how to effortlessly pack and care for your linen items.
Okay, now, we have a big question: Where to buy lovely linen items?
Here, you're already in the right place. It's our store.
Let's explore our website for colorful, trendy linen pieces of clothing. I'm pretty sure that you will be satisfied with our products.
So, what are you waiting for?
Buy now or cry later.
Purchasing our products right now and preparing for your next trips.