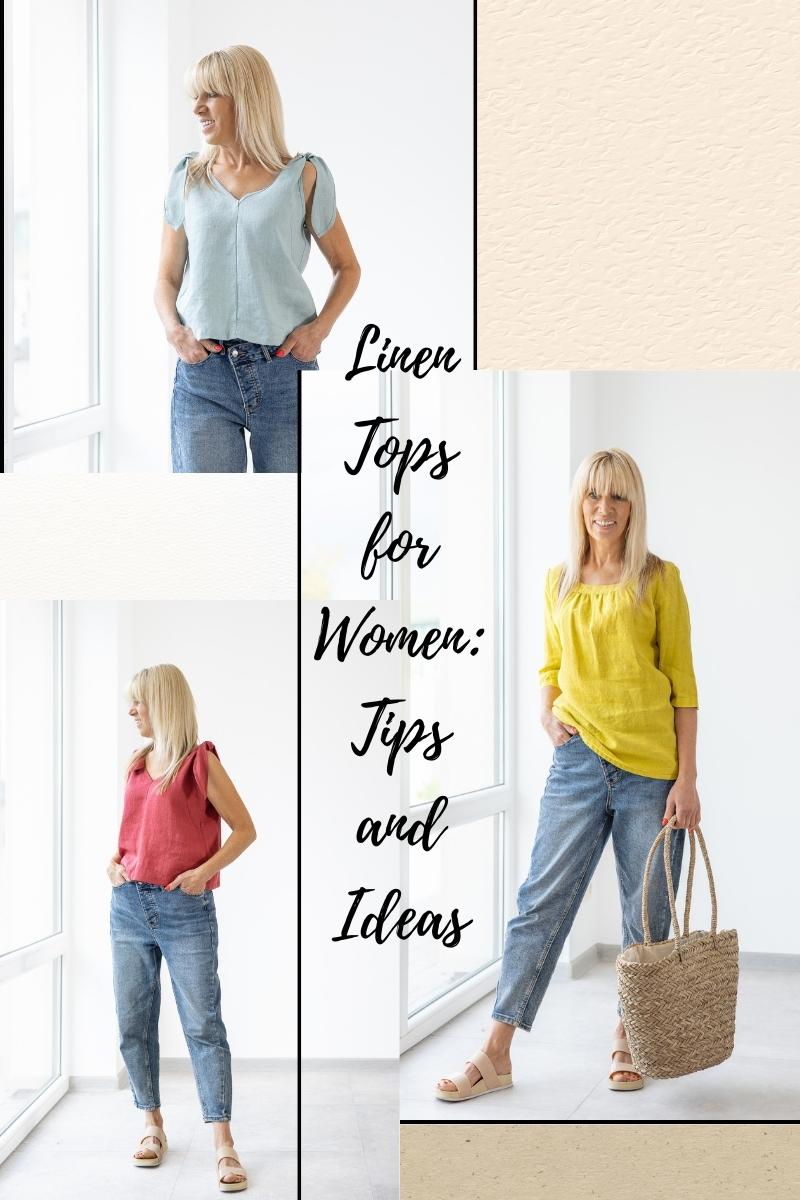 How to Style Linen Tops for Women: Tips and Ideas
If there was ever a season for linen – that's summer! The sultry evening air, the soft breeze caressing the trees, or even a hot day in the Mediterranean sun, and our body will be asking for the comfort of an airy linen top, while our soul will be begging for the beauty of glorious summer fashion. 
As we all know, a summer fashion and a stylish summer wardrobe start with a light, versatile, and unforgettable linen top. 
Of course, flowy skirts, bright floral prints, or strappy sandals are all part of the décor of any veritable summer adorer. Each season brings its unique challenges but oh-so-long-expected rewards for having a stylish yet comfortable wardrobe. 
And there's nothing more stylish and comfy than the linen tops! 
If your body is yearning for the touch of quality material, join me as I delve into some hot-looking but cool-feeling tips and ideas on styling linen tops for women like yourself (and like myself) so you can step out into this overheated world as your coolest, most confident self! 
Exploring linen tops for women: Different types and when to wear them
If the thought of the perfect summer wear has got you hooked, but you're still on the fence about whether a linen top will truly suit your style, wonder no more. MinimalisticLinen tops come in so many shapes and styles that it will be impossible not to find something to suit your taste, your body type, or your unique personality. 
And most probably, it won't be only one piece. Fair warning: You'll probably want them all. I know I do! 
From the well-known and much-loved classic nudes and natural, earthy colors to the modern and vibrant ones, the linen top can do it all.
If you want to be classic and timeless, it will get you there. If you want to be sparkly and unique, it's got you covered!
From wrap to crop, from T-shirts to blouses and even tunics, our linens are specially designed to be an integral part of your life and style.
Linen Wrap Tops for Versatile Styling
One of the most versatile, well-loved, and universally worn tops is and has always been the womens wrap top. It's a classic, just like its bigger sister, the wrap dress, and it stood the test of time just because it's got something to offer to everybody.
Before anything else, it fits every body type. If you've got a body, it will dress it, dress it well, make it look amazing, and make your day awesome.
The wrap top has one responsibility, and it does it well: to make your waist look snatched and accentuate your curves. Whether you feel they are too much or too little, whether you are trying to show them or hide them, the wrap top will do that for you.
It's also recommended for a case of the Monday blues. Make sure you start your week with a wrapped top, and you won't have to worry about anything else.
Linen Crop Top: A Trendy Summer Choice
The crop top, on the other hand, although it's been around for ages, is one of the most modern pieces you can add to your summer wardrobe. And if you make it linen, you hit the modern factor as well as the classic and elegant aspects.
linen top crop is comfortable, fashionable, beautiful, and designed to give you a relaxed feeling in your body and a peaceful outlook on life.
If you're worried they might be a bit too revealing, there is a fast and effective solution to that problem: wear them with a high-wasted bottom (so many to choose from here!), and you'll get a tall, elongated, and elegant body frame others will want to copy.
Linen T Shirts for Effortless Everyday Style
No matter what you choose, however, there is nothing more modern yet classic than the underrated, basic, but possibly spectacular if you wear it right – T-shirt.
The moment the simple T-shirt and linen met each other was a pairing made in heaven. It's a combination that offers everything to the one who wears it. If you're going for an effortless everyday style, the linen t shirts will get you there.
Linen Blouses: A Go-To Choice for Easygoing Yet Stylish Looks
A staple of effortless chic, the linen blouse is a must-have in the collection of any linen lover. A piece loved by women of all ages and styles, it fits effortlessly into any wardrobe. It can be paired with pants or skirts, worn to work or on holiday, dressed up or down, and the sky is the limit for how the blouse can make your outfit shine in an easygoing yet stylish way.
Linen Tunic for a Relaxed Resort Look: Breezy and Beautiful
Breezy, beautiful, and a head-turner in any setting, the tunic is one of those pieces that not only goes with every body type but it has the capacity to turn your state of mind into a relaxed and peaceful state of joy. You can wear it as a relaxed resort look or turn it into a power garment at work. The linen tunic is a classic and intercultural piece that reminds the world everything is okay – there is no need for stress and worry because things will work out in the end.
Chic Minimalism: Styling Linen Tank Top for Understated Elegance
The minimalist tank tops for women is the staple of understated elegance that the modern woman is looking for. It's versatile, unassuming, and can be worn with practically anything. You can style it to perfection using nothing but a statement piece of jewelry or understyle it and wear it as it is, with a pair of perfectly chosen linen trousers or even a pair of jeans for an unforgettable day when you live in the moment rather than worry about clothes and how they fit you because you already know they fit you perfectly.
They're linen, after all.
Linen Tops vs. Cotton Tops: A Comparison
While cotton is a highly wearable choice for hot summer days, there is no comparison to the elegance and breathability of linen. Cotton has some undeniable advantages, but linen is its bigger, better, more comfortable counterpart, and it isn't afraid to wear its crown proudly.
Linen's most crucial characteristic is its high breathability, making it perfect for hot and humid summer days. It quickly dries and won't leave you wearing those dreaded sweat stains on your armpits all day.
Like a best friend who gets out of a bad situation, linen will be there to keep you fresh, dry, and incredibly comfortable when your cotton-wearing friends are drenched.
What to Wear with Linen Tops for Women: Bottoms and jackets
If you're wondering what to wear with your linen top of choice, it's very simple: You can wear it with anything!
But just because it's so versatile and because you have so many choices, it cannot be easy to set your mind on just one.
Everybody's primary choice for linen is to almost always wear it with linen. It's not a must, however. It goes with jeans, flats, and mules, with or without jewelry, with a long skirt, short skirt, flared trousers, or even office pants.
But there's nothing like wearing linen on linen, for that timeless and effortless elegance and sophisticated flair that only natural materials can offer you.
You can pair your wonderful linen top with a pair of linen pants for a casual Friday at work or a relaxing day out and about. You can choose tapered to enhance your curves or straight for a more classic look. You can also find more tips on styling pants in our blog post "Best Linen Pants Outfit Ideas for Women"
High-waisted is always in style, as is the airy, flowy, and wonderful long linen skirt that will make any hot summer day a relaxing experience.  
As for the slightly cooler summer night or the fast-approaching autumn, a linen jacket will compliment your outfit seamlessly.
The Best Linen Tops for Travel: Style and Comfort on the Go
When you're looking at someone dressed in linen, I bet your first thought is: s/he must be feeling so comfortable and relaxed, just like on vacation! And you'd be absolutely right! 
That's why linen is the perfect material to take on vacation: it's light, perfectly cooling, and moisture-absorbing for humid tropical climates, and it will make you feel as relaxed and elegant as you look. 
It's the perfect material for any vacation!
How to Care for Your Linen Top: Essential Tips for Longevity
One of the best characteristics of linen is that it's so easy to care for, and it's one of the few materials that gets better the more you wear it. As long as you give it a little love and care, it will be your best friend for a very long time. It's long enough even to get tired of it, except that never happens with linen. 
Because the charm of linen clothing never fades!
Washing Linen Tops: A Step-by-Step Guide for Gentle Care
Make sure you give linen the gentle care that it needs, and it will reward you with many years of gentle care for yourself. Wash linen in lukewarm or even cold water. 
Hand washing is best, but we know you're busy, so we manufacture our linen in such a way that it's now possible to use the washing machine on a shorter cycle, with mild detergents. 
You can even put it in the dryer. The trick is to use low temperature. 
Removing Stains from Linen Tops: Effective Techniques to Try
Since linen is a natural material, it's best to try and remove stains from linen tops with natural ingredients. 
White vinegar, lemon juice, and baking soda are perfect for removing even the most stubborn stains from your beloved linen top. Make sure you apply the vinegar to the stain and let it soak for about an hour. Do not rub. Just wait for the vinegar to do its job. Then rinse it out, apply baking soda, and repeat the process. When done, put it in the wash as you normally would, and you'll be surprised at the power of natural ingredients working together perfectly with natural fibers.
Best Methods to Safely Remove Makeup Stains from Linen Tops
If you stained your favorite linen top with makeup, don't despair. There are solutions for every situation!
One household item that will surprise you with its effectiveness in taking out stubborn makeup stains is the common shaving cream. Apply it to the stain, let it act for a good half an hour, and then rinse. Repeat as needed.
What also works is rubbing alcohol, or if the makeup that stained your linen top is something grease-based, like lipstick, your best bet is the dishwasher detergent.
Of course, one of the easiest tricks is bleach or peroxide, but you can only use them on your white garments. Otherwise, the solution will discolor the fabric, which will be a pity. We do not recommend this method, just in rare cases.
How to Iron Linen Top: Achieving a Smooth Finish with Ease
If you hate ironing as much as I do, don't worry: linen is the perfect material to wear in its natural wrinkly wonderfulness, and nobody will bat an eye: everybody expects it. It is linen, after all.
But if creases are absolutely unacceptable, make sure you use a high-quality iron with a lot of steam. Steam is essential to getting that perfectly flat linen that we all know and love. 
Also, to help in the process, make sure to spritz the entire garment with a lot of water before starting.
What to Do When Your Linen Tops Wrinkle: Quick Fixes and Prevention
While wrinkles on linen are expected, there are ways to prevent them and quick fixes. For example, you can toss your linen top into the dryer with a few ice cubes for about 10 minutes. As the heat melts the ice, the steam will flatten the top. Make sure to use low heat anyway!
The same method, but with a different tool: use the vertical steam iron to give your linen top a quick fix, and you'll have it looking fresh in a matter of minutes.
Summary of Styling Ideas for Linen Tops
Without a doubt, the linen top will make a difference in your wardrobe, your style, and your life.
Styling your outfit starting from a good piece of linen will let your creativity speak in unimaginable ways! 
You can be you, or you can be the best version of you. Whoever you decide to be that day, you can rock a linen top while still looking chic, lightweight, and unforgettably fashionable this summer, this year, or for the rest of your life.